Luggage storage in Paris Orly Airport
Paris Orly Airport is located 12 km to the south of Paris. It is the home base for Transavia France and secondary hub for domestic and overseas territories flights of Air France. At Orly Airport, you can find flights to destinations in Europe, the Middle East, Africa, the Caribbean, North America, East Asia and Southeast Asia.

Easy and Affordable options with LuggageHero near Orly Airport
By using a taxi, you can get to Paris from Orly Airport in only 30 minutes. If you are looking for train options – both RER B and RER C are easily available from Orly Airport as well as Orlyval. Last but not least, Orly Airport gives its passengers a few options for several bus services such as Orlybus, Le Bus Direct, among others.
After arriving in Paris, you might wish to explore the city. That can be challenging when you're dragging a lot of luggage coming from the airport which is why considering a luggage storage service might be the option you've been looking for.
LuggageHero has many locations around important attractions in Paris where you can store your luggage either for the short term or the long term. LuggageHero has locations near the Louvre, Eiffel Tower, Gare du Nord, Gare de l'Est and many other storage points near major stations and attractions in the city of love.
Pricing per bag
From €1/hour in Paris plus a one-time €2 handling fee.
Nevermore than €8/day (Handling fee included)
There are other luggage storage options to consider, but the one we recommend is LuggageHero due to its affordability and convenience. With LuggageHero, you can make a booking and cancel it if you end up not needing it – entirely for free.
With LuggageHero, the items in your bags will also be safe as all of the bags will be sealed – guaranteeing that nobody tampered with your luggage.
Luggage storage options in Orly Airport
Paris-Orly Airport luckily offers baggage storage in terminal Sud public area near Gate G departures hall. Bagages du Monde offers the options to ship, store (short term or long term), or wrap your luggage.
Other services you can use include Eelway and Holibag which offer different storage options. Always offers the option to have your luggage collected at arrival (however, that may be a bit pricier than other services, starting at 10 euro). In contrast, LuggageHero offers prices from €1/hour (you have to drop off your own luggage, no collecting upon arrival).
Download the easiest luggage storage app in Paris
For even more comfort you can download the easiest luggage storage in Paris app created by LuggageHero. This app allows you to find places to store your luggage anywhere in Paris.
Use the official LuggageHero app to store your bags anywhere around the city
Or download the App by scanning this QR code. It's that simple!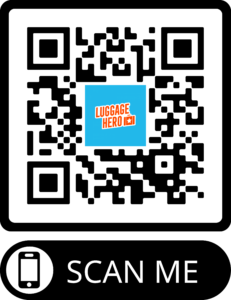 Facilities and services at Orly Airport
Orly Airport offers a wide number of services and facilities.
WiFi
Free and unlimited Wi-Fi is available at Orly Airport by logging in to "WIFI-AIRPORT" or "WIFI-AIRPORT-STANDARD".
ATM
You can find ATMs in many different locations around the airport such as Departures Hall, Arrivals, Arrival Immigration Hall, and others.
Currency Exchange Options
These are the locations where you can exchange currencies:
Orly 1-2: At Gate 21D.
Orly 3: At level 1.
Orly 4: On airside.
Lost items
If you happen to lose an item inside the airport, you should go to Departures 1, the arrival level. Open from 07:00 am to 04:00 pm, daily.
Baby Changing Stations
You can find the baby changing stations in all toilets at Orly Airport, both landside and airside, on the departures/arrivals levels.
Other Facilities you can find:
Food, drink and retail concessions
VAT refund
Cash dispenser
Children's play area
Smoking area
Video games corner
Lost property
Baggage scales
Baggage services
For a full list of facilities and services you can check out Airport-Orly.com
Frequently Asked Questions for Orly Airport
Is Orly airport better than CDG?
– Paris Orly Airport is smaller than CDG as it only has two terminals. However, it might be better to visit than CDG, since it is less crowded, security check waits are shorter and there are less delays for flights.
Is Orly airport far from Paris?
– Orly Airport is located 15 km to the south of Paris. To get there with a taxi it will take you around 30 minutes, and the price is charged at a flat rate of 35€.
Is Orly closer to the Eiffel Tower than CDG?
Yes, Orly airport is a lot closer to the Eiffel Tower (15km away), while CDG is a whole of 26km away from the tower. If your goal is to visit the Eiffel Tower, then arriving at Orly Airport is the better option.
Can you store luggage at Orly airport?
– Yes, you can store your luggage at Orly Airport. The location of the luggage storage is in terminal Sud public area near Gate G departures hall.
What is the cheapest way to get to Paris from Orly Airport?
– The cheapest option to get to Orly airport from Paris (and vice versa) is by using a bus. Buses take around 45 minutes, and cost only 8.30€.