Guide 2021: Luggage Storage at Gare de Lyon Station
There are several options when it comes to luggage storage at Gare de Lyon. The station provides lockers which can be found Hall 3, close to the exit to Rue de Bercy. The opening hours of this storage are daily from as early as 6.15 am to 10.00 pm. You better think fast, because normally the number of items stored is limited. It would be also good to know that you can only pay by cash here.
Left Luggage Tip: It can be expensive to store your luggage inside Gare de Lyon lockers at this Station. Walking less than 100 meters outside the station to find a LuggageHero store can save you a lot of money!
Best Luggage Storage Locker Service for Gare de Lyon Station
LuggageHero is our preferred luggage storage company at Gare de Lyon Station. There are several reasons for this such as the number of locations in the area and flexible pricing, but it is mainly due to the LuggageHero shop Gare de Lyon Station Currencies. The mentioned shop is located less than 100 meters from Gare de Lyon Station. Therefore, it is super easy to stop by Gare de Lyon Station Currencies and drop off your bags.
Download the easiest luggage storage app in Paris
For even more comfort you can download the easiest luggage storage in Paris app created by LuggageHero. This app allows you to find places to store your luggage anywhere in Paris.
Use the official LuggageHero app to store your bags anywhere around the city
Or download the App by scanning this QR code. It's that simple!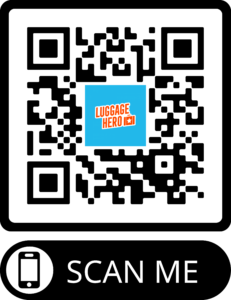 How much does it cost to store my luggage in Gare de Lyon Station as of 2021?
It depends on what luggage storage service you use. However, if you go with our preferred luggage storage service instead of train station lockers for this particular area in Paris, then all you pay is €1 for each hour of luggage storage. The maximum amount would never exceed €8 for an entire day.
Best luggage Storage Around Gare de Lyon Station
We have created an interactive map for you to easily locate luggage storage lockers around Gare de Lyon Station as of 2021.
Browse, explore and make your choice to where to store your luggage!
All the Left Luggage Paris Locations are Vetted by Us
Here, we have listed all the vetted location services that you can store your luggage with at Gare de Lyon Station. Left Luggage Gare de Lyon locations are all vetted and regular checks are performed.
"Airbnb luggage storage" around Gare de Lyon Station
There are many options to store your bags, suitcases or sports gear in Gare de Lyon Station. Here are the main Gare de Lyon luggage storage solutions as of 2021. When you drop off your bags at one of these locations, you can freely enjoy the wonders of the French Capital without having to carry around your baggage.
Checking Online Reviews for LuggageHero:
As we wrote on our front page, it is always a great idea to check the different luggage storage services' reviews on Trustpilot.
To access LuggageHero's Trustpilot reviews click here
What about the opening hours for luggage lockers Gare de Lyon
The opening hours fluctuate according to the operating hours of the local shop in which you store your suitcases. But not to worry – overnight luggage storage is also possible. Therefore, you do not have to pick up your luggage before closing time unless you must use some belongings from your bags before the local shop opens again.
Keep in mind that only LuggageHero uses seals for each piece of luggage, making bag storage near Gare de Lyon safer than other services.
Frequently Asked Questions about Gare de Lyon
Can you store luggage at Gare de Lyon?
Yes, you can. The luggage lockers are open from 6:15 until 22:00 for you to drop off your items. If you are looking for storage during the night, you can try alternative luggage storage locations through services like LuggageHero.
Is Gare de Lyon area safe?
The Gare de Lyon area is completely safe both during the day and at night. The area is safe for locals and tourists just like almost all of Paris.
How far is Eiffel Tower from Gare de Lyon?
The Eiffel Tower is almost 6km away from Gare de Lyon. You can go to Gare de Lyon from the Eiffel Tower by taking the number 6 bus from Bir-Hakeim until Charles de Gaulle – Étoile station. After which you can take the RER at Gare de Torcy until you reach Gare de Lyon.
How can I reach Gare du Nord from Gare de Lyon?
You can reach Gare de Lyon by taking the subway – RER D Gare de Goussainville and riding for 11 minutes until you reach Gare du Nord.
What can I see near Gare de Lyon?
Just a few minutes walk away is the Parc de Bercy which is a city park with mature trees, a vineyard & an orangery, plus a duck pond & 3 old wine warehouses. Apart from that you can walk down the waterfront nearby and enjoy the beautiful view of the Seine.