Gare Montparnasse or Paris – Montparnasse Station Luggage Storage
There are luggage lockers at Gare Montparnasse for a maximum amount of time. The maximum length of time is 72 hours and locker fees, which are the same for all stations, vary from €5.50 to a maximum of €9.50 per day, depending on the size of the locker.
Gare Montparnasse luggage lockers are available from 6.30 am to 10.45 pm.
Keep in mind: Lockers are not as reliable as luggage storage services as they may be temporarily unavailable for security reasons or during renovation work at the train stations.
Guide 2022:
Our recommended luggage storage in Paris-Montparnasse Station is LuggageHero
Left Luggage Gare Montparnasse Tip: It can be expensive to store your luggage inside Paris-Montparnasse Station. Walking less than 100 meters outside the station to find a LuggageHero store can save you a lot of money.
Best luggage storage service for Paris-Montparnasse Station
LuggageHero is our preferred luggage storage company at Paris-Montparnasse Station. There are several reasons for this such as the number of locations in the area and flexible pricing, but it is mainly due to the LuggageHero store Paris-Montparnasse Station Currencies. The mentioned store is located less than 100 meters from Paris-Montparnasse Station. Therefore, it is super easy to stop by Gare Montparnasse Currencies and drop off your bags.
How much would it cost to store my luggage in Paris-Montparnasse Station as of 2022?
It depends on what luggage storage service you use. However, if you go with our preferred luggage storage service for Gare Montparnasse in Paris then you have to pay €1 for every hour of luggage storage. The maximum amount would be no more than €8 for an entire day. 
Download the easiest luggage storage app in Paris
For even more comfort you can download the easiest luggage storage in Paris app created by LuggageHero. This app allows you to find places to store your luggage anywhere in Paris.
Use the official LuggageHero app to store your bags anywhere around the city
Or download the App by scanning this QR code. It's that simple!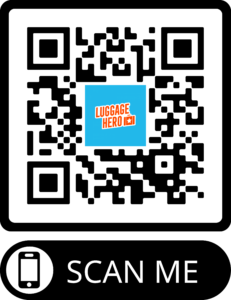 Store your luggage and don't think about it anymore 
You can store every kind of luggage at our locations. It doesn't matter which size your luggage is, what's important is that you can chill without it. Store every kind of bag: backpack, trolley, ski equipment, and so on. And there's more! You choose how you want to pay, if by the hours or daily.
Flexible and easy to use
Are you staying more than one day? Don't worry! Not only is it super easy and flexible, but LuggageHero is also convenient: after the first day, you'll only pay 5€ per bag! Your luggage can stay in our store locations also for long periods!
Is there any difference between left luggage and luggage storage?
Left luggage is the luggage that people leave in an established luggage storage facility. Left luggage is mostly being used in the UK. Luggage storage is a storage facility where luggage can be left. Luggage storage is the term used internationally when referring to storing luggage. To sum up, there is absolutely no difference between the two concepts. Both reflect people's need of storing luggage that can be collected at a later time. So whether you are looking for left luggage or luggage storage, LuggageHero can take care of your belongings.
Best luggage storage around Paris-Montparnasse Station
We have created an interactive map for you to easily locate luggage storage lockers around Paris-Montparnasse Station as of 2022.
Browse, explore and make your choice to where to store your luggage! Whether you find yourself near Gare Montparnasse, Gare du Nord, The Eiffel Tower, Orly Airport, or anywhere else around Paris, you can find a place for left luggage nearby.
All the left luggage locations are vetted by us
We have listed all the vetted locations to store your luggage at Paris-Montparnasse Station on this page.
There are many options to store your bags, suitcases or sports gear in Paris-Montparnasse Station. Here are the main solutions as of 2022 to free yourself and go enjoying the wonders of the Paris Capital without having to carry around your baggage.
Why leave luggage near Gare Montparnasse
Leaving your luggage near Montparnasse might be especially useful if you consider visiting any of the following attractions.
The Observatory

Having your suitcase with you while visiting the observatory would be a drag. Built in 1667, it is the oldest observatory still working. If you want to enjoy the beautiful sky and make use of a romantic moment in Paris, the observatory is perfect for you to visit.

Visit Montparnasse Cemetery

It may sound a bit morbid to some but visiting the Montparnasse cemetery can be very pleasant and soothing. The area is very green and you can see one of the last remaining windmills of Paris together with some beautiful pieces of art. The cultural significance of the cemetery is just as important.

Visit Le Dôme or La Coupole

The two fancy and artsy cafes that are definitely worth a visit if you find yourself in Montparnasse after you left your luggage. The cafes were popular with local artists ever since the 1920's and offer something special for you to try in Paris.

There are many things to do and try near Gare Montparnasse and if you happen to leave your luggage there you have the perfect opportunity to enjoy the attractions around the station.
"Airbnb luggage storage" around Paris-Montparnasse Station
Checking online reviews for LuggageHero:
As we wrote on our front page, it is always a good idea to check the different luggage storage services reviews on Trustpilot.
To access LuggageHero's Trustpilot reviews click here
What about the opening hours for luggage lockers
The opening hours fluctuate according to the local shop in which you store your suitcases, but overnight luggage storage is possible as some shops are open 24/7. You do, therefore, not have to pick up your luggage before closing time unless you have to use some belongings from your bags before the local shop opens again.
Keep in mind that only LuggageHero uses seals for each piece of luggage.
Leave your luggage near Gare Montparnasse and go explore Paris!
Frequently Asked Questions about Luggage Storage Gare Montparnasse
Is there luggage storage at Gare Montparnasse?
– Yes, you can store luggage at Gare Montparnasse. The left-lockers are available from 7 am to 11 pm which means that if you are there at night or have a very early train to catch, you may want to look for alternatives such as luggage storage facilities and services near Gare Montparnasse.
Is Montparnasse safe?
– Montparnasse is a generally safe place to stay, especially if you are a tourist as the crime is currently very low. It is central enough for you to also be able to easily access most attractions and make the best out of your trip.
How far is Paris Montparnasse from CDG?
– Paris Montparnasse is 26 km away from CDG airport making it impossible to make the journey on foot. To reach the airport, you may want to use the train or bus. You can for example use Bus from Paris – Aéroport Roissy CDG T2 to Paris – Gare Montparnasse which will cost you around €7. You can check out the ride here.
How do I get from Paris Montparnasse to Gare du Nord?
– You can arrive at Gare du Nord in 6 ways to get from Gare Montparnasse. The possibilities are: by subway, train, bus, taxi or foot.
The cheapest option is the line 4 subway which will take around 21 minutes in transit until you arrive at your destination.
How do you get from Gare Montparnasse to Gare de l est?
– There are 3 ways to get from Gare Montparnasse to Gare de l'Est by subway, bus or taxi. The distance is long so we exclude the possibility of going by foot. If you take the line 4 subway, you can arrive at your destination in only 20 minutes.