Where to Store Your Luggage Near Châtelet–Les Halles?
Discovering the wonders of Châtelet–Les Halles is such a great experience. However, carrying around your suitcase on your day of arrival and departure can ruin your day. Especially if you have hours between train rides. Moreover, many attractions you'd want to see that day have strict no-bag policies.
Do you want to store your baggage around Châtelet Les Halles?
Unfortunately, there is no luggage storage at Chatelet Les Halles Station. However, there are plenty of options to store your luggage at the nearby spots. You can store your bags, suitcases, or sports gear next to Châtelet Les Halles. With the help of this guide, you will be able to choose the Châtelet–Les Halles luggage storage option that is most convenient for you.
LuggageHero is our recommended luggage storage provider near Châtelet–Les Halles
We recommend LuggageHero as a preferred luggage storage service provider based on the number of storage locations near Châtelet–Les Halles area, as well as on the flexible pricing, luggage insurance, and simple online booking process. You only pay €1 per item, but if you would like to store your luggage for a full day, then it is only €8 for 24 hours!
Download the easiest luggage storage app in Paris
For even more comfort you can download the easiest luggage storage in Paris app created by LuggageHero. This app allows you to find places to store your luggage anywhere in Paris.
Use the official LuggageHero app to store your bags anywhere around the city
Or download the App by scanning this QR code. It's that simple!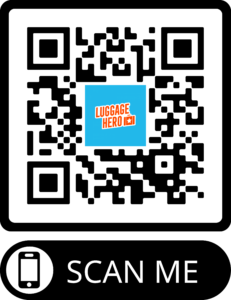 Store your luggage and don't think about it anymore
You can store every kind of luggage at our locations. It doesn't matter which size your luggage is, what's important is that you can chill without it. Store every kind of bag: backpack, trolley, ski equipment, and so on. And there's more! You choose how you want to pay, if by the hours or daily.
Flexible and easy to use
Are you staying more than one day? Don't worry! Not only is it super easy and flexible, but LuggageHero is also convenient: after the first day, you'll only pay 5€ per bag! Your luggage can stay in our store locations also for long periods!
Is there any difference between left luggage and luggage storage?
Left luggage is the luggage that people leave in an established luggage storage facility. Left luggage is mostly being used in the UK. Luggage storage is a storage facility where luggage can be left. Luggage storage is the term used internationally when referring to storing luggage. To sum up, there is absolutely no difference between the two concepts. Both reflect people's need of storing luggage that can be collected at a later time. So whether you are looking for left luggage or luggage storage, LuggageHero can take care of your belongings.
Interactive Luggage Storage Paris Map!
In the following interactive map, you will find the lockers Paris storage options available in the surroundings of Châtelet–Les Halles. Click on a pin, and read the location of Luggagehero. Left luggage Châtelet–Les Halles has never been this simple before!
See all the storage Paris has to offer. Browse, explore and make your choice!
Châtelet–Les Halles "Airbnb luggage storage" with LuggageHero
LuggageHero allows travelers to drop off their luggage and bags in a certified restaurant, hotel, bar, or local shop. Travelers can create a booking online and drop off their luggage at a Paris storage location of their choice. The luggage is then sealed with a LuggageHero tag. LuggageHero only charges their customers for the exact time that their bags were stored while under insurance. Way better than other luggage lockers in Paris where if your items are stolen you have no guarantee.
LuggageHero has over 100 locations and luggage lockers in Paris. Châtelet–Les Halles Luggage lockers in Paris are a simple solution of short-term baggage storage that provides you with the comfort and flexibility you deserve on your trip.
FAQ
Why should I visit Chateles les Halles?
As the biggest underground station in the world – being just at the station is the experience itself! The station is very well-connected with the rest of Paris and outside too. On average, it is around 750 000 people crossing this station daily.
Where can I travel from Chateles les Halles?
You can travel literally everywhere within Paris from the station of Châtelet-Les Halles. It is connected with 302 other stations and 54 out of them offer transfer spots to other lines and connections, thus making the Parisian transport system one of the densest in the world. Think of it, as wherever you are, a station is no more than 500 meters away (1600 feet). Chatelet Les Halles metro takes the connectedness to another level as it links very conveniently railways with metro lines.
What is there to see and do at Chatelet les Halles?
All around the station, you can find small eating places, restaurants, coffee shops, parks, or shopping mall Westfield Forum des Halles. As the oldest district of Paris, Chatelet Les Halles offers it all. You can also experience a beautiful play in Theatre du Chatelet, modern art in Rivoli gallery, pretty historical passageways, or Chatelet Les Halles magasin. There is a plenty of activities or sights to choose from.