Guide 2022: Luggage Storage in Gare du Nord Station
Luggage storage Tip: It can be quite expensive to store your luggage inside Gare du Nord Station. Walking less than 100 meters outside the station to find a LuggageHero luggage storage can save you a lot of money!

LuggageHero is the recommended luggage storage around Gare du Nord Station
We have created an interactive map for you to easily locate the best luggage storage near Gare du Nord.
Browse, explore and make your choice as to where you want to store your luggage around Paris.
Why OneWorld is the best place to store luggage near Gare du Nord:
Located just 4 min away from the station
Only service that offers €1/hour or 7€/day
Opening hours: Monday – Sunday: 9.00 am – 20.30 pm
Luggage insured with LuggageHero against damage, loss, and theft
NO NEED TO BOOK IN ADVANCE
Store your luggage and don't think about it anymore
You can store every kind of luggage at our locations. It doesn't matter which size your luggage is, what's important is that you can chill without it. Store every kind of bag: backpack, trolley, ski equipment, and so on. And there's more! You choose how you want to pay, if by the hours or daily.
Flexible and easy to use
Are you staying more than one day? Don't worry! Not only is it super easy and flexible, but LuggageHero is also convenient: after the first day, you'll only pay 5€ per bag! Your luggage can stay in our store locations also for long periods!

Luggage Storage Gare du Nord
There are many options for storing luggage near Gare du Nord. At the station itself you can find luggage storage at Level -1, below the North West information booth, escalators down. Station for suburban and grand line trains (including Eurostar, TGV & Thalys), RER B, RER D, RER E, and Metro lines 2,4,5. The storage is open every day a week from 06:15 am until 11:15 pm.
City lockers in Paris for Gare du Nord
The cost for luggage locker in Paris in general, and therefore also for Gare du Nord, depends on the size of the locker. There is a lot of lockers in Paris but here is a guideline for pricing for city lockers in Paris:
Small Baggage Lockers: 5.50€ / 24 hours. It is big enough to fit around two school-size backpacks.
Medium Baggage Lockers: 7.50€ / 24 hours.
Large Luggage Lockers at Gare du Nord: 9.50€ / 24 hours.
While it may be cheaper if you keep it for a whole day, it becomes an expensive option if you choose to store your belongings for only a few hours. That is why LuggageHero might be a better option for you.
More of Gare du Nord
If you find yourself near Gare du Nord there are various things you can do and explore around whether you've managed to drop off your bags somewhere or are still carrying them around.
Marche Saint-Quentin
Marche Saint-Quentin is a food market where you can try the freshest product around Paris. If you got some time between your next train or you just want something to do nearby you can try some organic fruits and vegetables right by the station. Best of all, if you already store your luggage at a bag storage location then you have nothing stopping you.
The "Maison Fond"
Just outside of Gare du Nord you can find the Maison Fond which is an artwork by Argentinian artist Leandro Erlich. The name literally means "house melts". It is a magnificent piece of art that you can see even before you've managed to drop off your luggage.
Enjoy the beauty of Gare du Nord
The station complex was designed by the French architect Jacques Hittorff and built between 1861 and 1864 which makes it quite old and interesting compared to modern stations. Jacques adopted a Beaux-Arts (neoclassical) style of architecture in the design of the railway station, which has a U-shaped terminus.
Gare du Nord railway station expansion
Gare du Nord is currently undergoing a huge expansion ( €600m ($696m) expansion project). The goal is to be able to accommodate the passengers that will arrive in 2024 due to the Olympic Games. The plan is for the station to be able to accommodate up to 900,000 passengers a day by 2030. Best of all, the project will include space for sports activities such as golf courses, gym, basketball courts, changing rooms, and lockers. It will be even more important for you to know where the closest locations for luggage storage are – if you want to enjoy a game of basketball without carrying your luggage…
"Airbnb luggage storage" around Gare du Nord Station
LuggageHero is our preferred luggage storage company at Gare du Nord Station. There are several reasons for this such as the number of locations in the station's area and the flexible pricing, but it is mainly due to the LuggageHero store Gare du Nord Station Currencies. The mentioned store is located less than 100 meters from Gare du Nord Station. Therefore, it is super easy to stop by Gare du Nord Station Currencies and drop off your bags.
How much would it cost to store my luggage in Gare du Nord Station as of 2022?
Prices vary depending on which luggage storage option you end up choosing. However, if you go with our preferred luggage storage service for Gare du Nord in Paris then you pay €1 for every hour of luggage storage. The maximum amount is no more than €8 for an entire day. Left luggage Paris and luggage storage in Gare du Nord does not have to break the bank.
Download the easiest luggage storage app in Paris
For even more comfort you can download the easiest luggage storage in Paris app created by LuggageHero. This app allows you to find places to store your luggage anywhere in Paris.
Use the official LuggageHero app to store your bags anywhere around the city
Or download the App by scanning this QR code. It's that simple!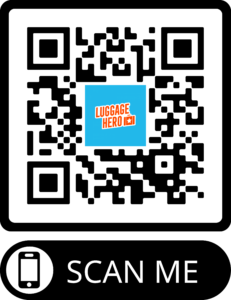 All the luggage storgage, also called left luggage, Gare du Nord locations are vetted by us
We have listed all the vetted locations to store your luggage in Gare du Nord Station on this page.
There are many options to store your bags, suitcases, or sports gear in Gare du Nord Station. You can find many storage locations and Gare du Nord lockers. Here are the main solutions as of 2022 on how to free yourself and enjoy the wonders of the French Capital without having to carry around your baggage.

Checking online reviews for LuggageHero:
As we mentioned on our front page, it is always a good idea to check the different luggage storage services reviews on Trustpilot, Facebook, Google, and other relevant pages before deciding to book. There are many luggage storage scams out there so it is important to read up a bit before making your choice.
To access LuggageHero's Trustpilot reviews click here

What about the opening hours for luggage lockers?
The opening hours fluctuate and work in accordance with the operating hours of the local shop in which you store your suitcases. But, not to worry – overnight luggage storage is also possible. Therefore, you do not have to pick up your luggage before the daily closing time unless you have to use some belongings from your bags before the local shop opens again.
Safe Luggage Storage in Gare du Nord
Keep in mind that only LuggageHero uses security seals for each piece of luggage you store. Bag storage Gare du Nord is safe and affordable when you store with LuggageHero.
Instead of wasting time endlessly searching "luggage shop near me" or searching for left lockers in Gare du Nord – with LuggageHero just outside the station, you can find luggage storage easily, you can use it right away or book for later and use on your own terms. Book your bag storage near Gare du Nord and explore Paris!
Frequently Asked Questions about Gare du Nord in Paris
Can I store luggage at Gare du Nord?
– Yes, you can find luggage storage options at Gare du Nord. You can store you luggage at the lockers between 6:30 am and 22:00 pm. That means that if you are there at night, you might want to find an alternative luggage storage service. You can only store your luggage for a maximum of 72 hours and you can only pay a fee that includes the whole day. You can't pay per hour like you can with other services like LuggageHero.
Is Gare du Nord dangerous?
– Gare du Nord, just like most of Paris, is considered generally safe. It is highly unlikely that you would find yourself in a dangerous situation if you use your common knowledge. Don't leave your items or luggage unattended.
How far is Gare du Nord station to Eiffel Tower?
– Gare du Nord is only 6km away from the Eiffel Tower so it does not take that long to go and enjoy the beauty of the tower. With a taxi, it would only take you around 11 minutes to get to the attraction. If you are looking for a cheaper option you can use the Line 32 bus via Square Montholon. However, that option will take almost an hour.
How far is Gare du Nord from the Louvre?
– Gare du Nord is not that far from the Louvre – only 3 km. If you take the line 7 subway you can be there in only 20 minutes and it will only cost you around €2.
When is Gare du Nord open?
– The station's opening hours are the same every day (including public holidays) from 4.30 am to 1 am in the morning. The tourist information welcome center is open 7 days a week (except 25 December, 1 January and 1 May) from 8 am to 6 pm.
Is Gare du Nord a busy station?
– Yes, it is. Gare du Nord has the capacity to handle 700,000 passengers and 2,200 train movements a day and is consideredt the second biggest station in terms of passenger capacity. That means that you should be extra careful when visiting the station during the current COVID-19 pandemic.