Guide 2023: Luggage storage in Saint Lazare Station
A Side-by-Side Comparison of Popular Services in Paris
Paris is one of the most popular tourist destinations in the world, and as such, it offers a wide variety of options for storing your luggage while you explore the city. Whether you're looking for a place to leave your bags for a few hours or a few days, there are plenty of options available to suit your needs. In this guide, we'll take a side-by-side look at some of the most popular luggage storage services in Paris, including their costs, locations, and hours of operation.
All services are reputable and provide a secure, convenient option for storing your luggage while you explore Paris.
Luggage storage tip: Generally, luggage lockers, also called city locker tend to be more expensive, but there are other options that can be very accommodating to your needs.
However, the one that best suits you may depend on factors such as cost, location, and hours of operation.
So let's have a look at what could be the best option for you:
| | | | |
| --- | --- | --- | --- |
| | LuggageHero | City Locker | NannyBag |
| Price | from 8.9€/24h | from 15€/14h | 12€/24h |
| Hours | 24/7 | 8:00-22:00 | 24/7 |
| Insurance | 2500€ | Limited | 1000€ |
| Flexible arrival | yes | no | no |
| Number of stores | 33 | 5 | 55 |
| Size limitations | No limitations | max 48x61x85 | max 30kg/1.5m |
| Ratings | 4.7 | 4.6 | 4.8 |
| Reviews | 122071 | 189 | 27802 |
| Discount | 2 hours free | no | no |
Best luggage storage service for Gare Saint Lazare Station
LuggageHero is our preferred luggage storage company at Saint Lazare Station. There are several reasons for this such as the number of locations in the area and flexible pricing, but it is mainly due to the LuggageHero store Saint Lazare Station Currencies. The mentioned store is located less than 100 meters from Saint Lazare Station. Therefore, it is super easy to stop by Saint Lazare Station Currencies and drop off your bags.
You can store every kind of luggage at all of LuggageHero locations. It doesn't matter which size your luggage is, what's important is that you can chill without it. Store every kind of luggage: backpack, trolley, ski equipment, and so on. You don't need to worry about the size or the weight of your luggage. Hero locations are open and waiting for you and your luggage.
Store your luggage with LuggageHero and have a carrying-free trip in the city! Using this service will help you to enjoy both the first and last days of your adventure.
And there's more! You choose how you want to pay, if by the hours or days.
Flexible and easy to use
Change of plans? Do you need to stay one more day? Don't worry! LuggageHero offers you locations with overnight storage options, and after the first day, you will only pay 5€ per bag!
You need to store your things for a longer period of time? LuggageHero got your back! LuggageHero is your flexible and super easy city locker friend!
Best luggage storage around Saint Lazare Station
The Gare Saint-Lazare station can be found in the 8th arrondissement which is a particularly dense business and shopping area of Paris. The district is located near the Métro stations: Saint-Lazare, Europe, Havre – Caumartin and Saint-Augustin.
There are many options to store your bags, suitcases, or sports gear in Saint Lazare Station. Here are the main solutions as of 2023 to free yourself and go enjoying the wonders of the Paris Capital without having to carry around your baggage.
If you find yourself at Gare Saint Lazare in Paris one of the ways to find the closest bag storage location to you is to get the LuggageHero app or visit their website and click on the GO button.
Luggage storage near me
We have created an interactive map for you to easily locate luggage storage lockers around Saint Lazare Station as of 2023.
Browse, explore and make your choice to where to store your luggage!
How much would it cost to store my luggage in Gare Saint Lazare Station as of 2023?
It depends on what luggage storage service you use. However, if you go with our preferred luggage storage service for this particular area in Paris then you have to pay €1 for every hour of luggage storage. The maximum amount would be no more than €8 for an entire day.
Left Luggage Tip: It can be expensive to store your luggage inside Saint Lazare Station. Walking less than 100 meters outside the station to find a LuggageHero store and save a lot of money!
What about the opening hours for luggage lockers
The opening hours fluctuate according to the local shop in which you store your suitcases, but overnight luggage storage is possible. You do, therefore, not have to pick up your luggage before closing time unless you have to use some belongings from your bags before the local shop opens again.
All the left luggage locations are vetted by us
We have listed all the vetted locations to store your luggage on this page.
Checking online reviews for LuggageHero:
As we wrote on our front page, it is always a good idea to check the different luggage storage services reviews on Trustpilot.
To access LuggageHero reviews click here!
Download the easiest luggage storage app in Paris
For even more comfort you can download the easiest luggage storage in Paris app created by LuggageHero. This app allows you to find places to store your luggage anywhere in Paris.
Use the official LuggageHero app to store your bags anywhere around the city
Or download the App by scanning this QR code. It's that simple!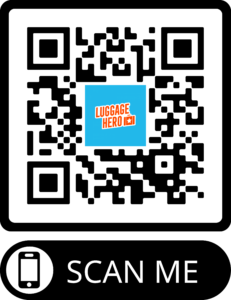 Are you in need of additional luggage storage options? Here are more recommendations for you to consider:
Customer Reviews