Guide 2023: Luggage storage in Saint Lazare Station
A Side-by-Side Comparison of Popular Services in Paris
Paris is one of the most popular tourist destinations in the world, and as such, it offers a wide variety of options for storing your luggage while you explore the city. Whether you're looking for a place to leave your bags for a few hours or a few days, there are plenty of options available to suit your needs. In this guide, we'll take a side-by-side look at some of the most popular luggage storage services in Paris, including their costs, locations, and hours of operation.
All services are reputable and provide a secure, convenient option for storing your luggage while you explore Paris.
Luggage storage tip: Generally, luggage lockers, also called city locker tend to be more expensive, but there are other options that can be very accommodating to your needs.
However, the one that best suits you may depend on factors such as cost, location, and hours of operation.
So let's have a look at what could be the best option for you:
| | | | |
| --- | --- | --- | --- |
| | LuggageHero | City Locker | NannyBag |
| Price | from 8.9€/24h | from 15€/14h | 12€/24h |
| Hours | 24/7 | 8:00-22:00 | 24/7 |
| Insurance | 2500€ | Limited | 1000€ |
| Flexible arrival | yes | no | no |
| Number of stores | 33 | 5 | 55 |
| Size limitations | No limitations | max 48x61x85 | max 30kg/1.5m |
| Ratings | 4.7 | 4.6 | 4.8 |
| Reviews | 122071 | 189 | 27802 |
| Discount | 2 hours free | no | no |
Best luggage storage service for Gare Saint Lazare Station
LuggageHero is our preferred luggage storage company at Saint Lazare Station. There are several reasons for this such as the number of locations in the area and flexible pricing, but it is mainly due to the LuggageHero store Saint Lazare Station Currencies. The mentioned store is located less than 100 meters from Saint Lazare Station. Therefore, it is super easy to stop by Saint Lazare Station Currencies and drop off your bags.
You can store every kind of luggage at all of LuggageHero locations. It doesn't matter which size your luggage is, what's important is that you can chill without it. Store every kind of luggage: backpack, trolley, ski equipment, and so on. You don't need to worry about the size or the weight of your luggage. Hero locations are open and waiting for you and your luggage.
Store your luggage with LuggageHero and have a carrying-free trip in the city! Using this service will help you to enjoy both the first and last days of your adventure.
And there's more! You choose how you want to pay, if by the hours or days.
Flexible and easy to use
Change of plans? Do you need to stay one more day? Don't worry! LuggageHero offers you locations with overnight storage options, and after the first day, you will only pay 5€ per bag!
You need to store your things for a longer period of time? LuggageHero got your back! LuggageHero is your flexible and super easy city locker friend!
Best luggage storage around Saint Lazare Station
The Gare Saint-Lazare station can be found in the 8th arrondissement which is a particularly dense business and shopping area of Paris. The district is located near the Métro stations: Saint-Lazare, Europe, Havre – Caumartin and Saint-Augustin.
There are many options to store your bags, suitcases, or sports gear in Saint Lazare Station. Here are the main solutions as of 2023 to free yourself and go enjoying the wonders of the Paris Capital without having to carry around your baggage.
If you find yourself at Gare Saint Lazare in Paris one of the ways to find the closest bag storage location to you is to get the LuggageHero app or visit their website and click on the GO button.
Upcoming Events Near Gare Saint-Lazare
The Kooks
Place: L'Olympia
Date: 18 February 2023
Don't miss The Kooks' upcoming concert in Paris on February 18th, a British indie-rock band established in 2004, led by vocalist and guitarist Luke Pritchard and known for hit singles such as "She Moves in Her Own Way" and "Naive" from their debut album, perfect for fans of alternative and indie-rock music.
Looking forward to visiting L'Olympia for a great entertainment experience? Make sure to check the bag policy before you go. And if you need a safe spot to store your luggage, Luggagehero is here to assist you. With Luggagehero you can easily find and book a luggage storage location close to L'Olympia, so you can fully enjoy the show without any worries.
Hamlet (Opera)
Place: Palais Garnier
Date: 08.03.23- 09.04.23
Shakespeare's "Hamlet, Prince of Denmark" will be performed as an opera by Krzysztof Warlikowski, inspired by the 19th-century adaptation by Alexandre Dumas père, at the Palais Garnier from 08.03.23 to 09.04.23.
Keep in mind to check the bag policy before the event starts.
Opera a Palazzo: La Traviata
Place: Jacquemart-Andre Museum
Experience the great emotions of opera in an intimate setting at the home of Édouard André and Nélie Jacquemart. Every month, the museum opens its doors after hours to host a unique adaptation of Verdi's La Traviata that includes a glass of Champagne and a visit to the museum.
Take a moment to look over the bag policy before the event.
Saut Hermès – annual show jumping competition
Location: Grand Palais
Date: 17 – 19 March 2023
The Grand Palais Éphémère will host the elite of international show-jumping at the Saut Hermès event (rated CSI 5* by the International Equestrian Federation) from 17-19 March 2023, featuring the world's top show-jumpers and an equestrian show, with the Grand Prix Hermès on Sunday afternoon being one of the most challenging competitions on the circuit.
Please review the bag policy, and if you need storage options, consider using LuggageHero before the event.
Unexpected Dialogues – Monet/Fehr
Location: Musée Marmottan-Monet
Date: 15 November 2022 – 25 June 2023
The Swiss painter, Marc-Antoine Fehr, will showcase a set of 240 gouaches inspired by the narrative potential of two Claude Monet paintings, Le Pont de l'Europe, Gare Saint Lazare (1877) and Champs d'Iris jaunes à Giverny (1887), at the Musée Marmottan-Monet from 15 November 2022 to 25 June 2023.
Remember to check the bag policy before going to the event.
Luggage storage near me
We have created an interactive map for you to easily locate luggage storage lockers around Saint Lazare Station as of 2023.
Browse, explore and make your choice to where to store your luggage!
How much would it cost to store my luggage in Gare Saint Lazare Station as of 2023?
It depends on what luggage storage service you use. However, if you go with our preferred luggage storage service for this particular area in Paris then you have to pay €1 for every hour of luggage storage. The maximum amount would be no more than €8 for an entire day.
Left Luggage Tip: It can be expensive to store your luggage inside Saint Lazare Station. Walking less than 100 meters outside the station to find a LuggageHero store and save a lot of money!
What about the opening hours for luggage lockers
The opening hours fluctuate according to the local shop in which you store your suitcases, but overnight luggage storage is possible. You do, therefore, not have to pick up your luggage before closing time unless you have to use some belongings from your bags before the local shop opens again.
All the left luggage locations are vetted by us
We have listed all the vetted locations to store your luggage on this page.
Checking online reviews for LuggageHero:
As we wrote on our front page, it is always a good idea to check the different luggage storage services reviews on Trustpilot.
To access LuggageHero reviews click here!
Download the easiest luggage storage app in Paris
For even more comfort you can download the easiest luggage storage in Paris app created by LuggageHero. This app allows you to find places to store your luggage anywhere in Paris.
Use the official LuggageHero app to store your bags anywhere around the city
Or download the App by scanning this QR code. It's that simple!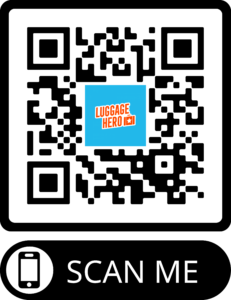 Are you in need of additional luggage storage options? Here are more recommendations for you to consider:
Customer Reviews